UPDATE: Check out "Super Jump 'n Bump"! See bottom of page for details.
Original 1998 MS-DOS game by:
Brainchild Design
​
Code:
Mattias Brynervall
Graphics:
Andreas Brynervall & Martin Magnusson
Music:
Anders Nilsson
2018 remastering by:
Domarius Games
​
Code:
Clint Hobson
​
Extra artwork:
Clint Hobson
-< Features >-
Local couch-multiplayer for 2-8 players!
Frantic and addictive retro gameplay!
3 players with only a keyboard & mouse!
Add up to 5 gamepads for a total of 8 players!
Short on game pads? Split any gamepad between 2 people!
4 gamepads - 8 players!
or...
8 gamepads - 8 players!
Updated to play on modern desktops:
Windows, Linux and MacOS!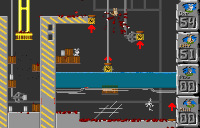 Make your own levels! A simple PNG file and a text file, no special packaging programs needed!
It's free! Why?
Well, this is a remaster; I didn't come up with the original game, that was Brainchild Designs in 1998. Also that version was free too!
​
But this remaster took weeks of work, and I added several improvements. So, if you like this kind of stuff, why not donate? I'd love to make more "couch multiplayer" games, and more retro themed games, and if I can make money this way, I'd love to keep going!
​
Use the donate button below, and download the game from Itch.io here!