Original 1998 MS-DOS game by:
Brainchild Design
​
Code:
Mattias Brynervall
Graphics:
Andreas Brynervall & Martin Magnusson
Music:
Anders Nilsson
2018 remastering by:
Domarius Games
​
Code:
Clint Hobson
​
Extra artwork:
Clint Hobson
-< Features >-
Local couch-multiplayer for 2-8 players!
Frantic and addictive retro gameplay!
3 players with only a keyboard & mouse!
Add up to 5 gamepads for a total of 8 players!
Short on game pads? Split any gamepad between 2 people!
4 gamepads - 8 players!
or...
8 gamepads - 8 players!
Updated to play on modern desktops:
Windows, Linux and MacOS!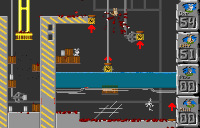 Make your own levels! A simple PNG file and a text file, no special packaging programs needed!
It's free! Why?
Well, this is a remaster; I didn't come up with the original game, that was Brainchild Designs in 1998. Also that version was free too!
​
But this remaster took weeks of work, and I added several improvements. So, if you like this kind of stuff, why not donate? I'd love to make more "couch multiplayer" games, and more retro themed games, and if I can make money this way, I'd love to keep going!
​
Use the donate button below, and download the game from Itch.io here!
And if you like this, check out "HopSquash!", which has heaps of new levels and graphical themes, multiple characters and colours to customise your animal with, and a built in level editor, with full gamepad support!